Technical Specification of standard Electric Wire Rope Hoist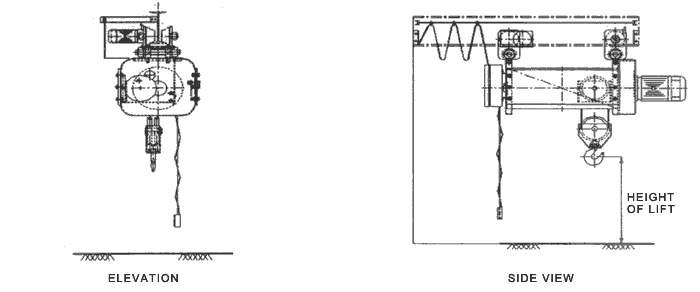 LOAD (kg.)
IS/FEM/ISO
LOFTS (M)
MODEL
SPEED(m/min)
POWER(kW)
CL-II
CL-III
CL-IV
1 Am/M4
2 m/M5
3 m/M6
250
2000
150
16
32
RHO 011N
16 mpm
0.75 kw
500
400
350
16
RHO 021N
8 mpm
0.75 kw
1000
800
630
8
RHO 041N
4 mpm
0.75 kw
1000
800
630
8
16
RH1 021N
10 mpm
2.2 kw
1000
1600
1250
8
12
RH1 041N
5 mpm
2.2 kw
2000
1600
1250
12
24
RH2 021N
9.5 mpm
3.4 kw

4000
3200
1250
12
24
RN2 041N
4.5 mpm
3.4 kw

2000
1600
1250
20
50
RH2 042N
9.5 mpm
3.4 kw
2500
2000
1600
22
44
RH3 021L
7.5 mpm
3.4 kw
2500
2000
1600
20
50
RH3 0421
7.5 mpm
3.4 kw
5000
4000
3200
15
22
RH3 041L
3.5 mpm
3.4 kw
3200
2500
2000
20
40
RH3 021N
12.5 mpm
7.5 kw
3200
2500
2000
15
31
RH3 042N
12.5 mpm
7.5 kw
6300
5000
4000
12
20
RH3 041N
6.3 mpm
7.5 kw
5000
4000
3200
15
25
RH4 021L
8 mpm
7.5 kw
5000
4000
3200
15
33
RH4 042L
8 mpm
7.5 kw
10000
8000
6300
12
26
RH4 041L
4 mpm
7.5 kw
6300
5000
4000
12
24
RH4 021N
9.5 mpm
11 kw
6300
5000
4000
15
30
RH4 042N
9.5 mpm
11 kw
12500
10000
12
22
RH4 041N
4.5 mpm
11 kw
8000
6300
5000
15
30
RH5 021N
6.5 mpm
11 kw
8000
6300
5000
15
30
RH5042N
6.5 mpm
11 kw
16000
12500
10000
12
28
RH5 041N
3.15 mpm
11 kw
16000
12500
10000
15
30
RH5 082N
3.15 mpm
11 kw
25000
20000
16000
12
20
RH5 122N
2.25 mpm
11 kw
32000
8
15
RH5 162N
1.6 mpm
11 kw
Electric Wire Rope Hoist Guide >> Installation
Installation of Mono Rail Hoist
Installation of Mono Rail Hoist having Free End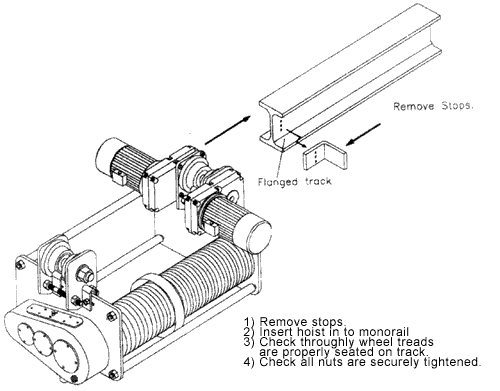 Electric Wire Rope Hoist Guide >> Lubrication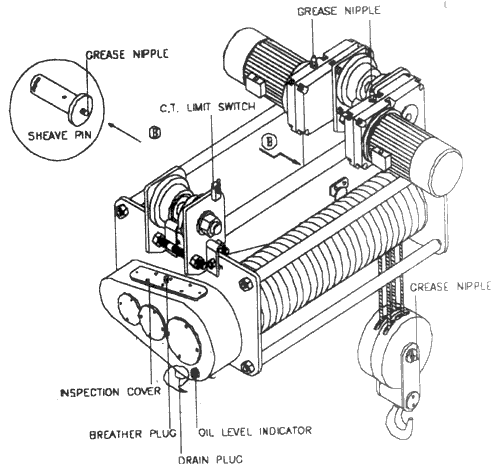 Electric Wire Rope Hoist Guide >> Wire Rope for Hook Block Rope Reeving 4/1 Aragement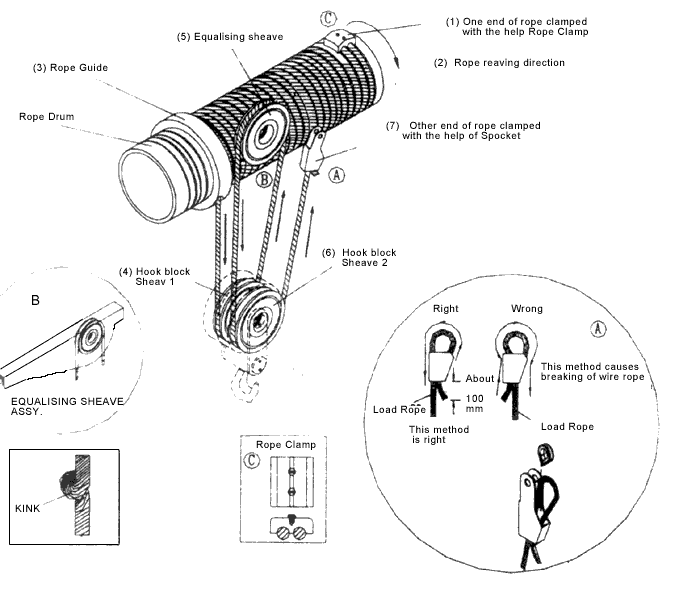 Rope Reeving 4/1 Aragement
Directions :
Clamp the rope as shown in (1)
Start reeving in the direction shown in (2) till the end of groove.
Pass through the rope guide (3)
Pass through the hook block sheave 1 (4)
Then to the equalising sheave. (5)
Then to the hook block sheave 2 (6)
Anchore free end of the rope to the rope clamp.
Electric Wire Rope Hoist Guide >> Wire Rope for Hook Block Rope Reeving for 4/2 Arrangement
Directions :
Pass the rope through equalising sheave (1)
Pass both end of the rope through the two sheaves of bottom block (2)
Then through the rope guide (3)
Get both the free ends clamped as shown in (4)
Then start winding after ensuring that direction of rotation of the drum is same as the direction of reeving by switching on hoisting motor.
Do proper lubrication.
Electric Wire Rope Hoist Guide >> Brake ( DC Fail Safe)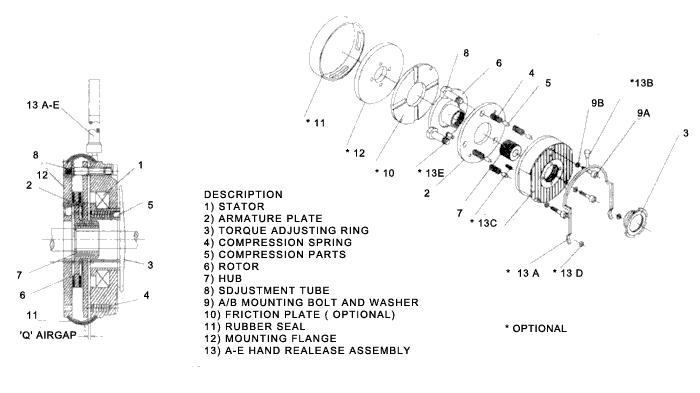 Electric Wire Rope Hoist Guide >> Dimensional : Electric Rope Hoist G.A. Drawing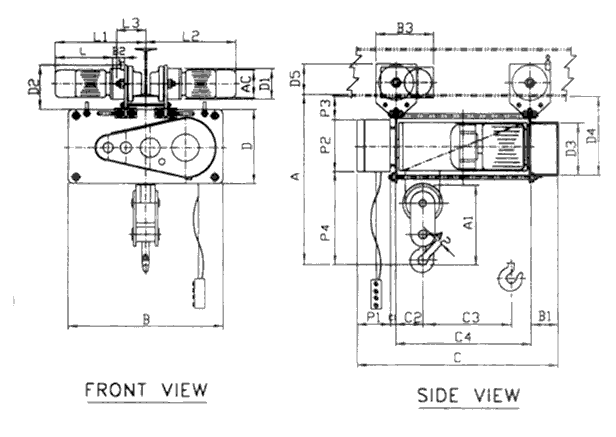 Dimensional : Electric Rope Hoist G.A. Drawing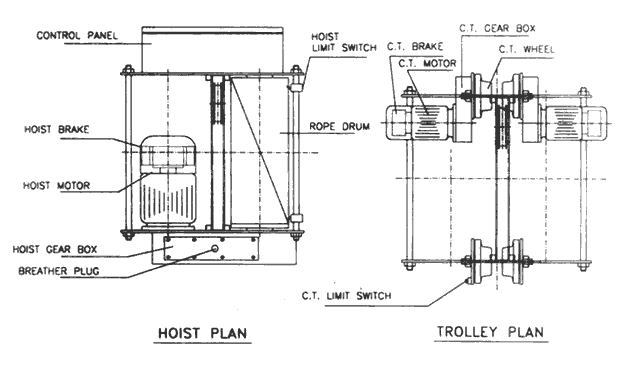 Electric Wire Rope Hoist Guide >> Details of Main Gear Box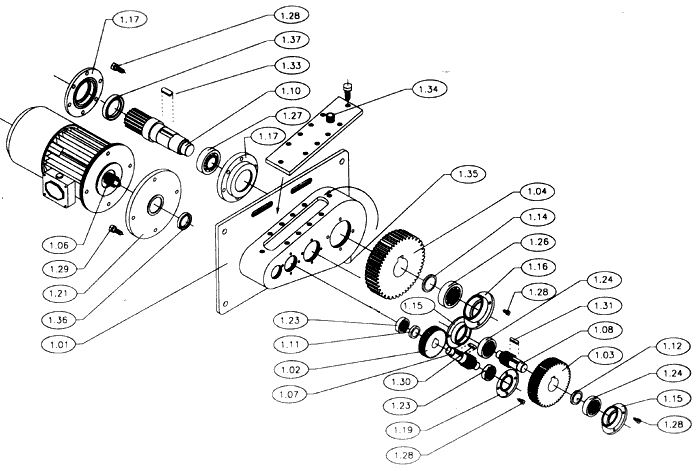 Electric Wire Rope Hoist Guide >> Details of Wire Rope Drum Assembly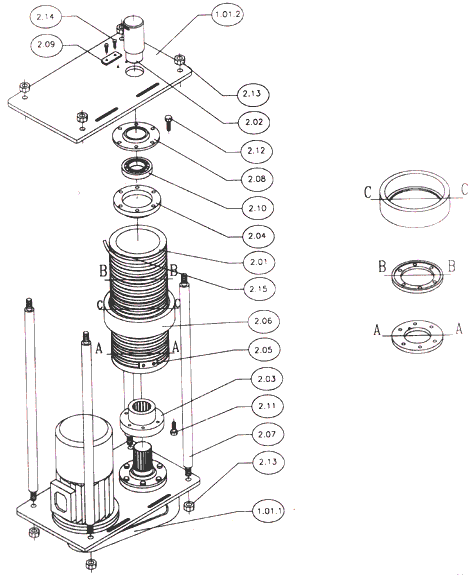 Electric Wire Rope Hoist Guide >> Details of Equalising Assembly
Electric Wire Rope Hoist Guide >> Details of C.T. Gear Box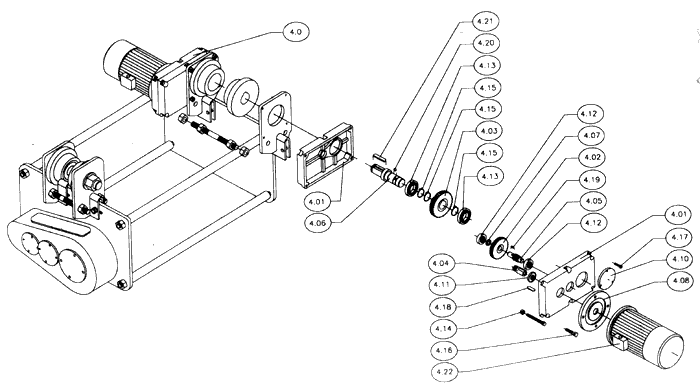 Electric Wire Rope Hoist Guide >> Details of C.T. Wheel Assembly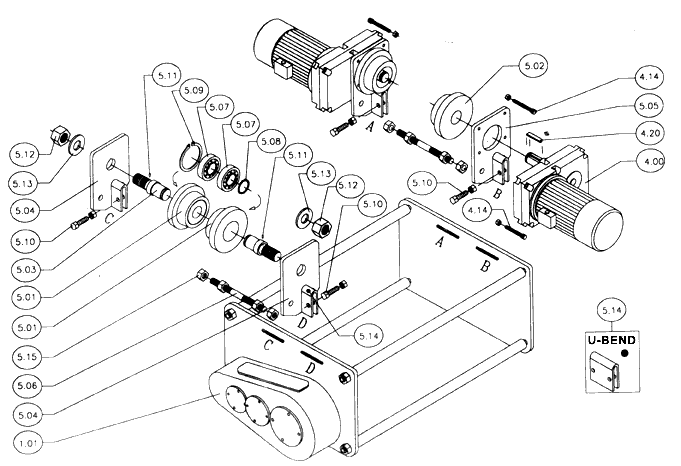 Electric Wire Rope Hoist Guide >> Details of Bottom Block ( > 5 Ton)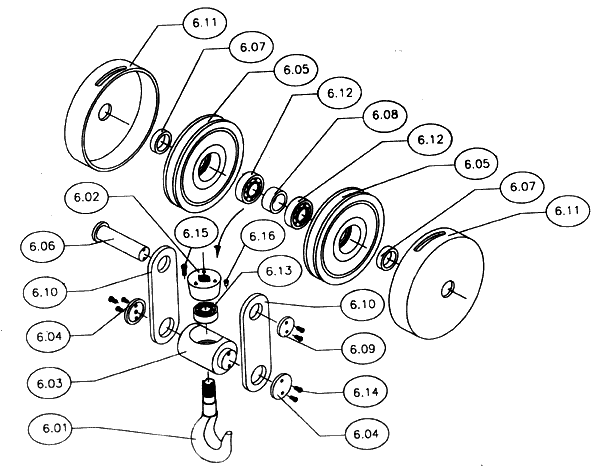 Electric Wire Rope Hoist Guide >> Details of Bottom Block ( < 5 Ton)